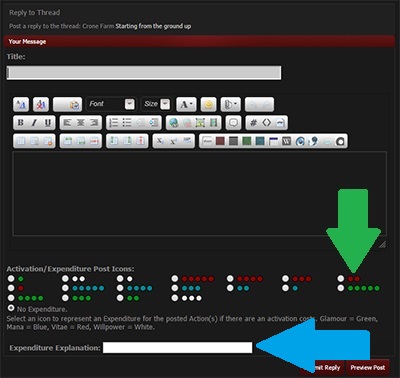 Power Icons
Icons are included in the forum posting area (first picture) to represent when Willpower and Fuel (Glamour, Mana, Vitae) are spent. A text field is provided for an explanation (power activation, etc). You can see in the second picture that they are then added to the post itself. The icons at the top, and the explanation at the bottom (the Explanation has since been moved to the top with the Icons).
Resilience, Vigor
This immediately lets a Storyteller know that something was spent, and will also show in the Tracker.
* Note that only one icon can be used per post. Therefore, if an icon doesn't exist to represent everything spent, a second post will need to reflect the second expenditure.
* The Explanation field is cleared when you Preview a post -- remember to complete it, if necessary.
* Power Icons are not available on the first post of a thread.
* Usage of Power Icons and
Tracker
is how Scenes and Expenditures are tracked on Edge of Darkness, and mandatory.